Ed Lees
Written by Ed Lees
Published: 30 Jun 2021
---
Ed is currently a Pathfinder Programme participant who wants to make an impact and use his skills and experience to make a difference.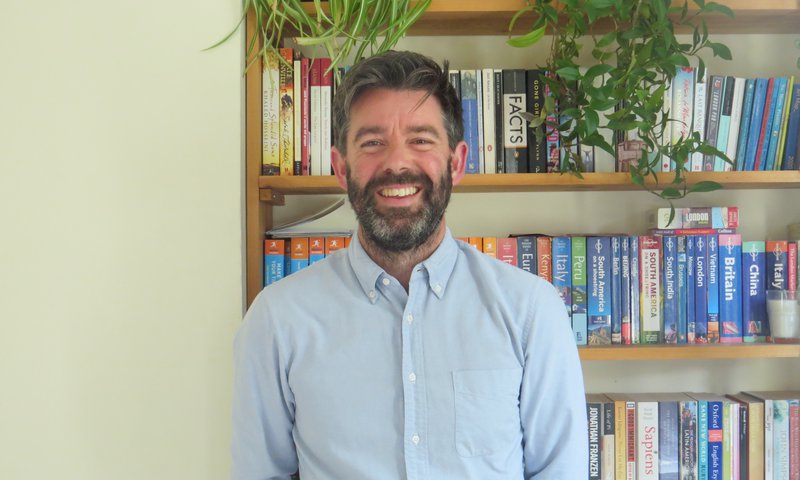 Can you tell me about your background and your career?
I have over 12 years' experience of delivering international education projects both at a national level and within a Higher Education institution. A lot of my experience has been in designing and delivering international placements, running marketing and recruitment campaigns, bidding for funding and building partnerships across the world. I am passionate about creating opportunities for young people and encouraging them to meet their potential inspires me. Alongside my current job I am a mentor for young people in the criminal justice system and volunteer for a UK youth charity. 
Why did you join the On Purpose Pathfinder Programme?
I am at a stage in my life where I want to make an impact. I want to use my skills and experience to make a difference. I was looking for a programme that would develop me and help me to be a leader with purpose. As soon as I read the description it felt like the Pathfinder Programme was the one. It gave me an opportunity to explore possibilities for making meaningful change both within my current role, my volunteering activities and in my longer term career and life and to put a strategic plan in place to achieve this. I was interested in learning more about design thinking and learning how to apply this to different scenarios. I enjoyed the idea of using a creative and problem-solving approach to the daily challenges of life. The strong focus on peer learning was also important. I was keen to build connections and networks outside of Higher Education and learn from people with different experiences and from different sectors. On Purpose had interested me as an organisation for a while and so having the opportunity to be part of the community was key.
Can you tell me more about what you are doing on the Programme?
Femke and Katherine have guided us through the life design process from creating a life vision and testing your ideas, to generating possibilities and then introducing strategies for making it happen. The programme has been a mix of presenter-led sessions to individual reflection, group work and interactive activities. Cutting up GQ and the Guardian to create my life vision board was particularly fun. The two and half hour sessions have flown by and have left me feeling energised and excited.
The peer discussions have also helped to explore in smaller groups and maintain momentum between the main sessions. It hasn't all been easy and at times it feels like other people are making much more progress or have more ideas or direction but the whole point of the programme is not to solve everything in a couple of weeks. It is about developing skills, tools and direction whilst making small changes along the way. The check in/out activities at the beginning and end of each session have allowed us all to share positives and negatives creating a feeling of reassurance and support within the group. The recent Fireside chat with the On Purpose CEO Tom also helped to tie the whole programme together and focus us on the next steps. Having a chance to be guided by three experts has been very inspiring.
What's the most important thing you have learnt so far?
There are so many things I could say here but I think the main thing the programme has taught me is that I can be in charge of my own career and life and have the power to direct and shape it. A major part of this has been that not all changes have to be big. For example, I now take one of my weekly team zoom meetings outside whilst walking rather than inside at a screen as a result of a discussion on energy givers and drainers. This has positively benefited not only me but my team at work. The box of life design tools and techniques I have developed as a result of Pathfinder will also be invaluable in the future and I am already using them to make a difference.
What is it like learning alongside the other Pathfinders?
This has been a real highlight of the programme. Despite never having met the other Pathfinders in person I feel like I know them well and feel very connected to everyone. The structure of the programme has really helped to cultivate a strong cohort with lots of opportunities for pair and group work and reflection encouraged. The peer sessions in between the formal programme have been invaluable and we have a WhatsApp group that has been a great forum for sharing ideas and opportunities. It is great to have the space to talk about your career and life plans with other people who are wanting to do the same thing rather than boring your friends and family all the time. There is a real mix of personalities and experience from across different sectors which is something I was looking for. Having different perspectives sharing their thoughts on my ideas has helped to stretch and pull me out of my comfort zone.
What advice would you give to others in a similar situation?
Sign up to Pathfinder now! I have been recommending this programme to lots of my friends already. If you are looking to make a new set of connections, want to take time to reflect on your career and life and would like to build a set of tools to help you to make your ambitions happen then this is the course for you. Katherine and Femke are fantastic facilitators and the pace and structure of the course mean that you will get a lot out of it even at the end of a long working day.
---
Register your interest in the On Purpose Pathfinder Programme here.