Meet our October 2023 placement organisations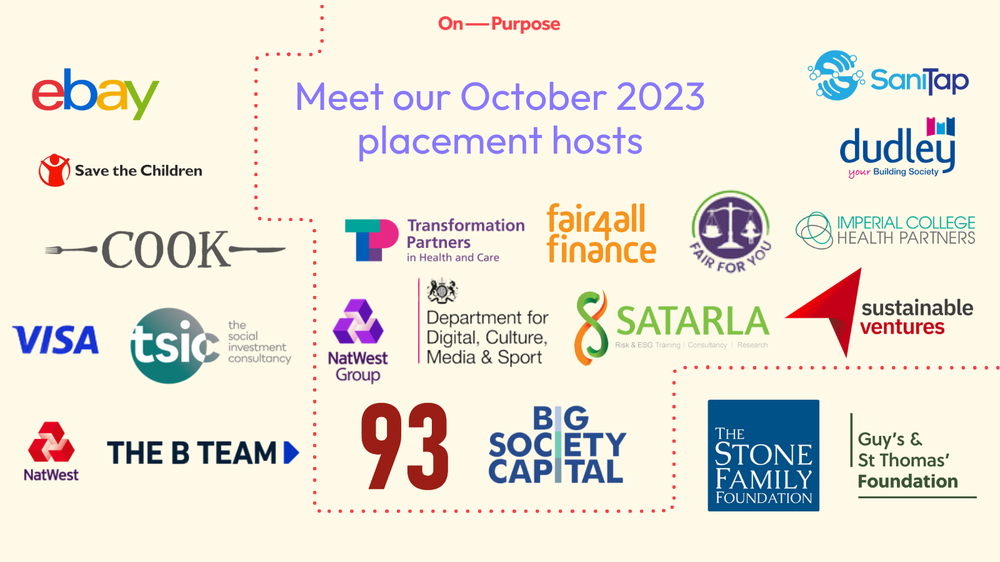 During their time on the Associate Programme, our Associates work in two purpose-driven organisations and get hands-on experience with challenging industry projects. Placement hosts can be social enterprises, social divisions of for-profit companies or commercially minded charities. But who are these organisations and how do they make an impact? (Drumroll…) Please meet our October 2023 placement organisations!
93% Club
In the UK, by school, we are sorted into two camps: the 7% of us who will represent 74% of judges, 61% of doctors, 32% of MPs, 43% of newspaper columnists, and those of us who won't. Those of us who won't are 93% of the population - those who went to state school. The 93% Club's vision is a world where going to a state school is a privilege, not a disadvantage, and they're achieving this by building a nationwide support ecosystem for the state educated that rivals that of the Old Boys' Network - the UK's least exclusive members' club.
Find out more here. 
Big Society Capital
Big Society Capital exists to make a difference. To help create a fair society by improving the lives of people in the UK, and the lives of generations to come.
As the UK's leading social impact investor, their role is to unite capital, expertise and ideas to help create a better, sustainable future. BSC play a dual role in the social impact investment market: by making investments, and through growing the sector through engagement. They operate in four investment systems: social property, social lending, impact venture, and social outcomes. With other investors alongside them, they have made more than £2.6bn of new capital available, reaching more than 2,000 charities, social enterprises, and impact start-ups.
Find out more here
COOK
COOK was founded in 1997 by Ed and Dale, two big-hearted entrepreneurs, with a little shop in Farnham and an old pizza delivery kitchen. Inspired by the taste of great home-cooking, their dream was to find a better way of doing business: working for people and the planet, not just profit. Today, COOK meals and puddings have picked up scores of Great Taste Awards and can be found in hundreds of independent shops all over the UK. They have four kitchens, where everything is still prepared by hand, nearly 100 of their own shops, and a thriving delivery service.
COOK hold true to their founding statement: To make remarkable frozen food using the same techniques and ingredients that a good cook would use at home.
Find out more here. 
DCMS Public Sector Commissioning
DCMS' overall aims are to enrich lives and drive growth. Their team supports these aims as part of the Civil Society and Youth Directorate. The Public Sector Commissioning Team's aim is to support a more resilient and sustainable Voluntary, Community and Social Enterprise (VCSE) sector. They want to enhance relationships between VCSEs and the government in order to create more social value. They also seek to improve social impact through more measurable outcomes for vulnerable people. This means finding ways to deliver innovative local partnerships, using social impact bonds to stimulate new approaches to tackling entrenched social issues. 
Find out more here. 
DCMS Youth & Tackling Loneliness
DCMS' overall aims are to enrich lives and drive growth. Their teams support these aims as part of the Civil Society and Youth Directorate. Within the Youth Team, their vision is that all young people in England have the opportunity to realise their potential and be empowered, active members of society. The Tackling Loneliness Team "aims to reduce the number of people in England who are lonely; equipping people with the support, information and hope they need to have strong social connections".
Find out more here. 
Dudley Building Society
Dudley Building Society is a regional mutual organisation. Like many similar societies, it was created over 160 years ago as part of a social movement, to use financial resources within the Black Country to improve lives. The main activities of a building society are to provide savers with a safe and rewarding place to deposit their money, and to use that money to provide mortgages to help people buy homes. 
Find out more here. 
eBay
eBay's aim is to tackle the (structural) exclusion of marginalised communities from economic opportunity by using their business to facilitate and advocate for change. They want to utilise their strengths as a business to support people to develop new livelihood opportunities by targeting groups that face the most significant barriers to entering the labour market. Alongside this work they want to provide a platform to those businesses that are driving inclusion by helping them grow, as well as using their voice and elevate the movement, most prominently through their eBay for Change programme, as well as their inclusive entrepreneurship programme of work which focuses on supporting Black women entrepreneurs, refugee entrepreneurs and budding young sneaker sellers to develop their businesses through ecommerce.
Find out more here. 
Fair 4 All Finance
Fair 4 All Finance is a not-for-profit organisation driving change in financial services to help people in vulnerable circumstances. They invest in organisations focused on providing financial products and services to people who are otherwise excluded from access to fair and affordable provision. Their focus is on scale and impact: they evidence what works, support development and innovation in delivery and drive significant increase in scale and reach. They also identify areas where regulatory and policy change could accelerate market development, based on research and evidence of what works in the UK and internationally. 
Find out more here.
Fair For You
Fair for You is a Community Interest Company wholly owned by the Fair Credit Charity. The Charity's objectives are to advance education in relation to money management, relieve financial hardship and prevent poverty. Since it started in 2015, Fair for You has generated an estimated £300 million of social value for its 50,000 customers. 
Find out more here. 
Guy's and St Thomas' Foundation (Impact on Urban Health)
Guy's and St Thomas' Foundation is one of the UK's largest independent charitable foundations. They combine this scale with being place-based – their work supports new ideas to tackle major health and care challenges in Lambeth and Southwark. They invest, partner, engage and influence to come at big health challenges from all angles. Through their family of forward-looking organisations, they collaborate with their communities, partners and hospitals, and use their assets to transform lives.
Find out more here.
Imperial College Health Partners (ICHP)
Imperial College Health Partners (ICHP) is a partnership organisation bringing together North West London NHS providers of healthcare services, Integrated Care Board (ICB), leading universities and industry partners. They are also the designated Academic Health Science Network (AHSN) for North West London. They were created by the NHS to support complex change across the health and care sector – innovating and collaborating for a healthier population.
Find out more here. 
Natwest Commercial & Institutional
NatWest Group's (NWG) purpose is to champion potential, helping people, families and businesses to thrive. This mission is core to the Group's purpose-led strategy, and NWG's prominence as one of the largest banking institutions in the United Kingdom. NWG works towards building solid and long-standing partnerships with customers, adding value for them at every opportunity. They've identified three areas where they can make a big impact to address the challenges that families and businesses face today - Climate, Enterprise and Learning.
Find out more here. 
Natwest Social & Community Capital
NatWest S&CC is the bank's social enterprise lending charity that provides loan finance for social enterprises and community businesses unable to access mainstream finance. As part of their new strategy, they will be designing and rolling out a root and branch rehaul of how the organisation monitors and assesses risk, driving a cultural shift from 'finance first' to embedded impact.
Find out more here. 
NHS Transformation Partners in Health and Care (TPHC)
TPHC Consulting is an NHS consultancy arm hosted by Royal Free London NHS Foundation Trust. The team was created by and for the NHS and care sector. Their portfolio of work is ever expanding, and spans across sectors such as integrated health and care systems, primary care, mental health, health and justice, digital services as well as functional areas such as programme management and delivery, organisational development, analytics, and strategy.
Find out more here. 
SaniTap
SaniTap builds climate resilience and improve the health of very low-income communities in Madagascar. Their flagship initiative will provide safe drinking water to over 4,310 communities by restoring, and then maintaining, existing wells which have fallen into disrepair. It will provide ongoing regular maintenance and emergency repair to ensure the availability of continued clean water (minimum 95% uptime) for 15+ years, building climate resilience and improving the health of very low communities in Madagascar.
Find out more here.
Satarla
Satarla is an award-winning sustainability and risk management consultancy. Their global network of experts supports organisations in making practical risk-based decisions and taking action for sustainable outcomes. Satarla facilitates cross-functional collaboration to enable informed decision-making at all levels of organisations, helping clients to navigate uncertainty and achieve objectives. 
Find out more here.
Save the Children UK
Save the Children exists to help every child reach their full potential. In over 100 countries, they make sure children stay safe, healthy and keep learning. Across Save the Children's members around the world, their shared ambition is that by 2030, no child dies from preventable causes before their fifth birthday, all children learn from a quality basic education, and violence against children is no longer tolerated. They tackle big problems, but know that every child is different, and every one of them has something special to bring to the world. 
Find out more here. 
The Stone Family Foundation (SFF)
They are a small family foundation with big ambitions. The foundation's main focus has been to support pioneering water and sanitation enterprises that provide safe, affordable services to low-income households in Asia and Africa. The Foundation wants to understand how long-lasting, sustainable services can overcome the failure of traditional infrastructure-led approaches, and they provide risk capital to test, scale or replicate ideas that have the potential to achieve transformational change. 
Find out more here. 
Sustainable Ventures
Sustainable Ventures was established during 2011 with the vision of a world in which the challenges of sustainability and resource scarcity are addressed through commercially viable solutions. Focusing on innovation and collaborative exchange, they developed commercial propositions into ventures that address real-world sustainability issues. Successes to date include E-Car Club, the UK's first crowdfunded exit with its acquisition by Europcar, and Powervault, the British rival to Tesla's Powerwall. Sustainable Ventures has since expanded into Investment (six seed-stage funds raised to date), Workspaces (over 750 innovators and entrepreneur members) and delivery of a range of venture and commercial support services. 
Find out more here. 
The B Team
The B Team is a global collective of business and civil society leaders working to create new norms of corporate leadership today, for a better tomorrow. Their Mission is to catalyse a movement of business leaders driving a better way of doing business for the wellbeing of people and the planet. 
Find out more here. 
The Social Investment Consultancy
The Social Investment Consultancy (TSIC) is a global social impact consultancy. They are committed to enabling their clients to better understand their impact, to innovate and scale; and influencing systemic social change. The Consultancy specialises in social impact measurement, impact investing and diversity, equity and inclusion strategies, amongst other service offerings bespoke for clients. 
Find out more here. 
Visa
Visa is a world leader in digital payments, facilitating more than 215 billion payments transactions between consumers, merchants, financial institutions, and government entities across more than 200 countries and territories each year. The Visa Sustainability Solution Team aims to accelerate sustainable consumption and behaviours by driving sustainable commerce as they work towards inventing products that will fuel the change they seek, while embedding sustainability solutions in everything they do. 
Find out more here.