Meet our April 2023 placement organisations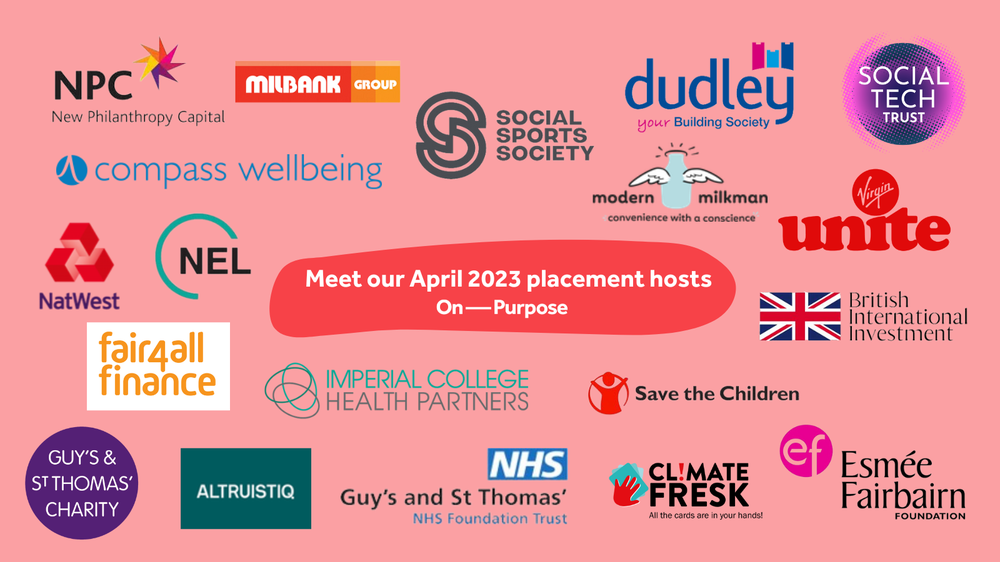 During their time on the Associate Programme, our Associates work in two purpose-driven organisations and get hands-on experience with challenging industry projects. Placement hosts can be social enterprises, social divisions of for-profit companies or commercially minded charities. But who are these organisations and how do they make an impact? (Drumroll…) Please meet our April 2023 placement organisations!
Altruistiq
Altruistiq is a SaaS solution that enables global corporates to track, measure, manage and reduce GHG emissions across their value chain. Altruistiq's platform creates transparency around the sources of emissions and suggests reduction initiatives to accelerate green business transformations. And they don't want to stop there - soon, with Altruistiq, businesses will also be able to understand all their externalities, for example water usage or biodiversity impact. 
Find out more here.
British International Investment
British International Investment (BII) is the UK's development finance institution and impact investor with a mission to help solve the biggest global development challenges by investing patient, flexible capital to support private sector growth and innovation. BII invests to create more productive, sustainable and inclusive economies in Africa, Asia and the Caribbean, enabling people in those countries to build better lives for themselves and their communities. BII invests between £1.5 and £2 billion every year in green infrastructure, technology and other sectors that need their capital the most.
Find out more here.
Climate Fresk
Climate Fresk is an NGO registered in France and was established in Dec. 2018 by Cédric Ringenbach, creator of the Climate Fresk workshop. Their goal is to educate people about the causes of climate change and raise awareness of climate-related issues through the Climate Fresk workshop. A key part of Climate Fresk's work involves training, upskilling, and mobilising workshop facilitators. After attending Climate Fresk's workshop, participants are offered the opportunity to become facilitators who go on to empower and collaborate with educational institutions, companies, governing bodies, communities, and the public. 
Find out more here. 
Compass Wellbeing CIC
Compass Wellbeing CIC is a health-oriented community interest company that has a focus on tackling health and social inequalities and benefiting the local community. Compass Wellbeing is a social enterprise that invests their resources in to training, resilience building and enhancing the voice of local communities. 
Find out more here. 
Dudley Building Society
Dudley Building Society is a regional mutual organisation. Like many similar societies, it was created over 160 years ago as part of a social movement, to use financial resources within the Black Country to improve lives. The main activities of a building society are to provide savers with a safe and rewarding place to deposit their money, and to use that money to provide mortgages to help people buy homes. 
Find out more here. 
Esmee Fairbairn
Esmée Fairbairn Foundation is one of the largest independent funders in the UK. They aim to improve our natural world, secure a fairer future and strengthen the bonds in communities in the UK. They do this by contributing all that they can to unlock change by people and organisations with brilliant ideas who share the Foundation's goals. In everything they do, they are motivated by the need to address the causes and impacts of climate change and to recognise their role in addressing diversity, equity, and inclusion. 
Find out more here. 
Fair 4 All Finance
Fair 4 All Finance is a not-for-profit organisation driving change in financial services to help people in vulnerable circumstances. They invest in organisations focused on providing financial products and services to people who are otherwise excluded from access to fair and affordable provision. Fair 4 All Finance's focus is on scale and impact: they evidence what works, support development and innovation in delivery and drive significant increase in scale and reach. They also identify areas where regulatory and policy change could accelerate market development, based on research and evidence of what works in the UK and internationally. 
Find out more here. 
Guy's and St. Thomas' Charity (Impact Investing & Trust Engagement)
Guy's and St Thomas' Foundation is one of the UK's largest independent charitable foundations. They combine this scale with being place-based – their work supports new ideas to tackle major health and care challenges in Lambeth and Southwark. 
Find out more here.
Impact on Urban Health
The places that we grow up, live and work impact how healthy we are. Urban areas, like inner-city London, have some of the most extreme health outcomes. Alongside their vibrancy and diversity sit stark health inequalities. At Impact on Urban Health, they want to change this. Impact on Urban Health believe that we can remove obstacles to good health, by making urban areas healthier places for everyone to live. 
Find out more here. 
Milbank
Milbank Group is a family-owned business consisting of a portfolio of 7 diverse and unique companies, growing rapidly through acquisition. Milbank's acquisitions are viewed as long term, patient investments. They feel they are custodians of their businesses and have a duty to improve their environmental and community impact. Milbank's aim is to not only improve their own environmental performance, but to also influence and inspire the markets they operate in. 
Find out more here. 
Natwest Sustainable Banking
Sustainable Banking works to create a better bank that acts ethically, takes responsibility, and strives to make a positive economic, social and environmental impact for all of Natwest's stakeholders. 
Find out more here. 
NHS NEL Healthcare Consulting
NEL Healthcare Consulting are an NHS consultancy service, and it is their ambition to help transform services and improve outcomes across the NHS. Their consultants bring their extensive public, private and third sector experience to bear on the NHS's most complex problems, as they advise, deliver and support bespoke portfolio, programme and project management solutions and end-to-end transformation services. NEL have supported some of London and the South East's most important and complex health and care projects, helping to keep people well and improve care.
Find out more here. 
New Philanthropy Capital
NPC is the leading independent consultancy and think tank for the UK charity sector, working with charities, funders and policy makers to achieve the greatest possible social impact for the people, places and causes that need it. 
Find out more here. 
Save The Children UK
Save the Children exists to help every child reach their full potential. In over 100 countries, they make sure children stay safe, healthy and keep learning. Across Save the Children's members around the world, their shared ambition is that by 2030, no child dies from preventable causes before their fifth birthday, all children learn from a quality basic education, and violence against children is no longer tolerated. 
Find out more here. 
Social Sports Society
Social Sports Society (S3) is an early stage but well-funded, purpose-led start up. Social Sports Society is on a mission to improve mental and physical health, by bringing people back together physically throughout the local community.
Find out more here. 
Social Tech Trust
Social Tech Trust is a charity that challenges themselves and others to think differently about the relationship between tech and society. They run programmes and provide the investment needed for high potential social tech ventures to grow and scale their social impact. Since 2008, they have supported over 300 social ventures in the UK and provided more than £30m of funding to transform lives with tech. Through this work, they've played a vital role in developing the social tech ecosystem and have built an extensive track record of successfully supporting social tech ventures to deliver financial and social returns. 
Find out more here. 
The Modern Milkman
When David Attenborough called for action to combat plastic waste in the oceans, people were crying out for an alternative way to shop, and it was in this context Modern Milkman that was formed. A closed-loop alternative to traditional supermarkets and grocery stores, they are committed to offering our customers plastic free packaging. Just like the traditional milkround, The Modern Milkman drop products on the doorstep and collect the glass bottles to be returned, rinsed and reused. 
Find out more here. 
Virgin Unite
Virgin Unite is the charitable entrepreneurial foundation of the Virgin Group. They started Virgin Unite with the aim of bringing people together to encourage them never to accept the unacceptable, to turn challenges into opportunities and to always push boundaries that make both business and the world better. In 2014, Virgin Unite and The B Team incubated 100% Human at Work - a charitable initiative with the vision to shape a more human future of work. The initiative has brought together a rapidly expanding community of over 500 organisations and individuals who are passionate about re-defining and changing work for good. 
Find out more here.