Meet our October 2022 placement organisations
Written by On Purpose
Published: 12 Oct 2022
---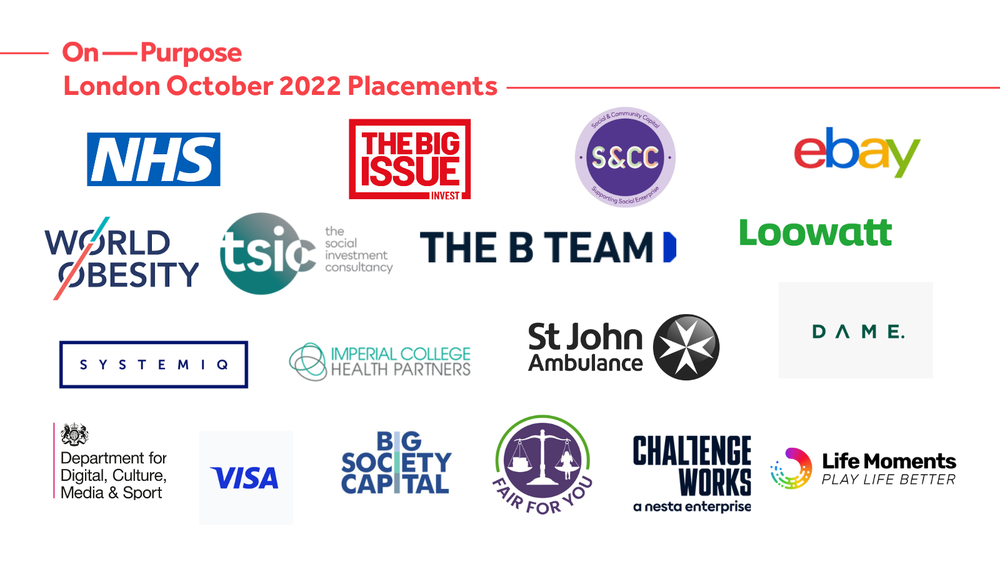 During their time on the Associate Programme, our Associates work in two purpose-driven organisations and get hands-on experience with challenging industry projects. Placement hosts can be social enterprises, social divisions of for-profit companies or commercially minded charities. But who are these organisations and how do they make an impact? (Drumroll…) Please meet our October 2022 placement organisations!
Big Society Capital
Big Society Capital is an independent financial institution with a social mission, set up to help grow social investment in the UK. Our aim is to improve the lives of people in the UK by connecting investment to charities and social enterprises that are creating social change. We know that investment can help charities and social enterprises achieve more. We believe the greatest chance to improve lives comes when investors and enterprises are both motivated by social mission.

Find out more here. 
Big Issue Invest
Part of the Big Issue Group, Big Issue Invest was established in 2005 and is one of the UK's leading UK social impact investors currently managing or advising £150m of impact-oriented funds. It does this through social impact investment: investing in charities and social enterprises to generate a social and financial return. Within this, the Big Issue Invest fund management team manage three social impact investment funds totalling £45m that make debt and equity investments across a range of social impact areas, including a new fund dedicated to outcomes-based investments such as social impact bonds.
Find out more here.
Challenge Works (previously Nesta Challenges)
Challenge Works exists to design and run challenge prizes that help solve pressing problems that lack solutions. We shine a spotlight where it matters and incentivise people to solve these issues. We are independent supporters of change to help communities thrive and inspire the best placed, most diverse groups of people around the world to take action. We support the boldest and bravest ideas to become real, and seed long term change to advance society and build a better future for everyone. We are part of the innovation foundation, Nesta.
Find out more here. 
DAME
DAME is a period care company on a mission to make periods positive for people and planet. 
Find out more here. 
Department for Digital, Culture, Media and Sport (DCMS)
The Department for Digital, Culture, Media & Sport (DCMS) helps to drive growth, enrich lives and promote Britain abroad. We protect and promote our cultural and artistic heritage and help businesses and communities to grow by investing in innovation and highlighting Britain as a fantastic place to visit. We help to give the UK a unique advantage on the global stage, striving for economic success.
Find out more here.
eBay
At eBay, we create pathways to connect millions of sellers and buyers in more than 190 markets around the world. Our technology empowers our customers, providing everyone the opportunity to grow and thrive — no matter who they are or where they are in the world. And the ripple effect of our work creates waves of change for our customers, our company, our communities and our planet.
Find out more here. 
Fair for You
Fair for You is an ethical lender, with a mission of helping financially-excluded families to buy essential household items, avoid hardship, and build their financial resilience. A registered community interest company (CIC) and owned by the Fair Credit Charity, Fair for You is backed by leading social investors.
Find out more here. 
Imperial College Health Partners
ICHP is a non-profit partnership organisation owned by the NHS, specifically by a collective of world leading hospitals, clinical commissioners and universities in North West London. By connecting a unique network of health experts, we can accelerate the adoption and spread of innovation amongst our member organisations. The Associate will form part of a fast-growing team which combines a unique blend of clinicians, health economists, analysts, programme managers and communications professionals.
Find out more here. 
Loowatt
We believe that everyone has the right to safe, dignified and hygienic sanitation, and that the status quo, where millions of people live without this basic necessity, is a challenge that must be addressed as a matter of urgency. Through our pioneering technology and partnerships, we're on a mission to provide valued, high quality and sustainable toilets and sanitation systems that transform the lives of individuals, communities and the environment. As well as working in developing countries to provide safe sanitation to those without, we also service the glamping and eco-tourism markets, providing versatile and sustainable toilets for commercial installations.
Find out more here. 
NatWest Social and Community Capital
Social & Community Capital is a charity funded and supported by NatWest in order to help social enterprises and community businesses. In the last five years, Social & Community Capital has approved over £10 million in loans to more than 80 organisations throughout the UK. Our ambition is to increase the size and strength of this important sector of the UK economy. 
Find out more here. 
NHS NEL Healthcare Consulting
We are an NHS consultancy service, and it is our ambition to help transform services and improve outcomes across the NHS. We have specialists with unparalleled knowledge and experience in fields including project management, communications and engagement, data analysis and organisational development. We draw our staff from across health, social care, and the commercial world, ensuring we have subject matter experts across a wide range of support needs, from population health management to primary care and the justice system. We have supported some of London and the South East's most important and complex health and care projects, helping to keep people well and improve care.
Find out more here. 
St John Ambulance
St John Ambulance is a volunteer-led, charitable non-governmental organisation dedicated to the teaching and practice of first aid and the support of the national emergency response system. We are the charity that steps forward in the moments that matter, to save lives and keep communities safe. We are a market leader in the provision of workplace training, first aid supplies and event and ambulance services. 
Find out more here. 
SystemiQ
SYSTEMIQ is a new kind of sustainability advisory and investment business with the mission to catalyse new and disruptive economic systems which are vital for the future of humanity and our planet. We work on advisory consulting projects with industry clients lasting 1-6 months, as well as longer-term coalitions of leaders which involve public-private partnerships to shape policy and business strategy with a global impact. We also invest our own venture capital and expertise in opportunities with the biggest potential to drive rapid system change. Our focus areas include circular economy and sustainable value chains, land use and energy.
Find out more here.
The B Team
The B Team is a global collective of business and civil society leaders working to create new norms of corporate leadership today, for a better tomorrow. Together, these leaders are holding themselves and their peers accountable for a new way of doing business—one that measures success not only by financial performance, but also by the health of people and our planet—for the benefit of generations to come.
The B Team was co-founded by Sir Richard Branson and Jochen Zeitz, and includes Leaders Ajay Banga, Oliver Bäte, Marc Benioff, Sharan Burrow, Kathy Calvin, David Crane, Emmanuel Faber, Christiana Figueres, Mats Granryd, Arianna Huffington, Dr. Mo Ibrahim, Yolanda Kakabadse, Isabelle Kocher, Guilherme Leal, Andrew Liveris, Indra Nooyi, Dr. Ngozi Okonjo-Iweala, François-Henri Pinault, Paul Polman, Mary Robinson, Ratan Tata, Hamdi Ulukaya, Zhang Yue and Professor Muhammad Yunus.
Find out more here.
The Social Investment Consultancy (TSIC)
The Social Investment Consultancy is a global social impact consultancy with offices in London, Hong Kong, Ghana and India. We are committed to enabling our clients to better understand their impact, to innovate and scale; and influencing systemic social change. We specialise in social impact measurement, social investment and diversity, equity and inclusion strategies, amongst other service offerings bespoke for clients.  
Find out more here. 
Visa
Visa is a world leader in digital payments, facilitating more than 215 billion payments transactions between consumers, merchants, financial institutions, and government entities across more than 200 countries and territories each year. Our mission is to connect the world through the most innovative, convenient, reliable, and secure payments network, enabling individuals, businesses, and economies to thrive.
The Visa Sustainability Solution Team aims to accelerate sustainable consumption and behaviours by driving sustainable commerce as we work towards inventing products that will fuel the change we seek, while embedding sustainability solutions in everything we do. We aim to leverage the right partners, to have a massive impact through our network, data, and reach.
Find out more here. 
World Obesity Federation
The World Obesity Federation is dedicated to eradicating obesity globally and are the go-to organisation for insights and information on the causes and means of presenting obesity. The World Obesity Federation represents professional members of the scientific, medical and research communities from over 50 regional and national obesity associations. Through our membership we create a global community of organisations dedicated to solving the problems of obesity.
Find out more here.