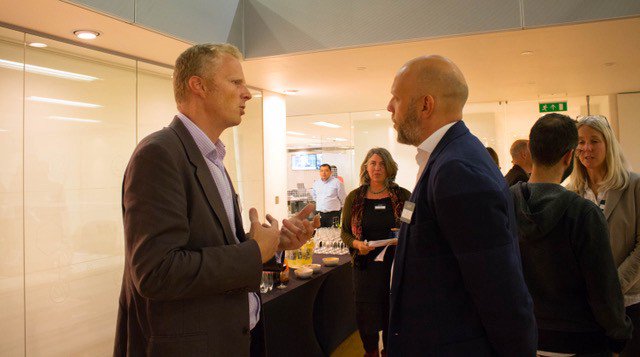 Børge Andreassen (right), Director of Executive Search with Prospectus, meeting CEOs at on On Purpose CEO Programme taster event

Catherine Andrews, On Purpose CEO Programme Lead, writes about On Purpose's latest partnership with Prospectus, who are partnering On Purpose to support the new CEO Programme.
On Purpose's latest venture works with leaders of organisations tackling some of society's most challenging issues. For these organisations to break through and have greater influence, they need to achieve sustainable impact. There are several critical factors which must be in place to achieve impact at scale, including a focus on developing outstanding leadership. Unfortunately, purpose-driven organisations often lack the resources to invest in talent and leadership development which can help equip their leaders for the complex challenges they are facing.
With the launch of our CEO Programme 2018 we're delighted to be partnering with Prospectus, the executive search and talent business who share our commitment to building excellent purpose led leadership. "We see all the time what a difference purpose led leadership can make, and are truly delighted to support On Purpose's CEO Programme. There is a real need to invest in developing the leaders of beyond profit organisations to enable them to achieve increased impact through their teams and organisations, and we believe the model On Purpose has developed achieves this," says Borge Andreassen, who is Director of Executive Search at Prospectus.
On Purpose's new programme targets CEOs of purpose led organisations, ranging from charities to social enterprises and purpose led SMEs. Designed to bring together cutting edge leadership development and a blend of activities, it takes the CEOs on a six month transformative journey with a community of peers. The programme provides a catalyst for the CEO, their senior team, and board members to tackle a strategic issue together and unlock the change that is critical to ongoing success. In this way, development is not limited to an individual, but supports the entire organisation. The programme builds from an initial focus on clarifying the CEOs' personal purpose and progresses through to strategies for amplifying their purpose and influence across the wider system beyond their organisation.
An external evaluation of the 2017 pilot found clear evidence of impact for individual CEOs and their organisations, this has formed a strong foundation for the programme launch in 2018. Helen Drury, who is CEO of Mathematics Mastery and a 2017 programme participant says about her experience: "The CEO Programme filled a gap that I'd be seeking to address for a long time: how to undertake learning that would 'stick' in the midst of an incredibly busy job. It also connected me to a learning community of peers and professionals."
Recruitment for 2018 is currently underway with a taster event on November 2nd, more details are on our website.
To enable us to serve the greatest need and deliver the greatest difference, we are thrilled that our new partnership with Prospectus will help support the programme. As the specialist talent agency working exclusively with the beyond profit sector, including charities and social enterprises, Prospectus brings a deep understanding of the sector, the challenges it faces and the opportunities it creates to deliver real change in our society. For both organisations the collaboration will help deliver our shared objective of developing the calibre of leadership talent within purpose led organisations.
If you're interested in joining our 2018 programme starting in February, get in touch with Catherine Andrews (catherine@onpurpose.uk.com).