B Corp Month 2023: Our commitment to transforming ourselves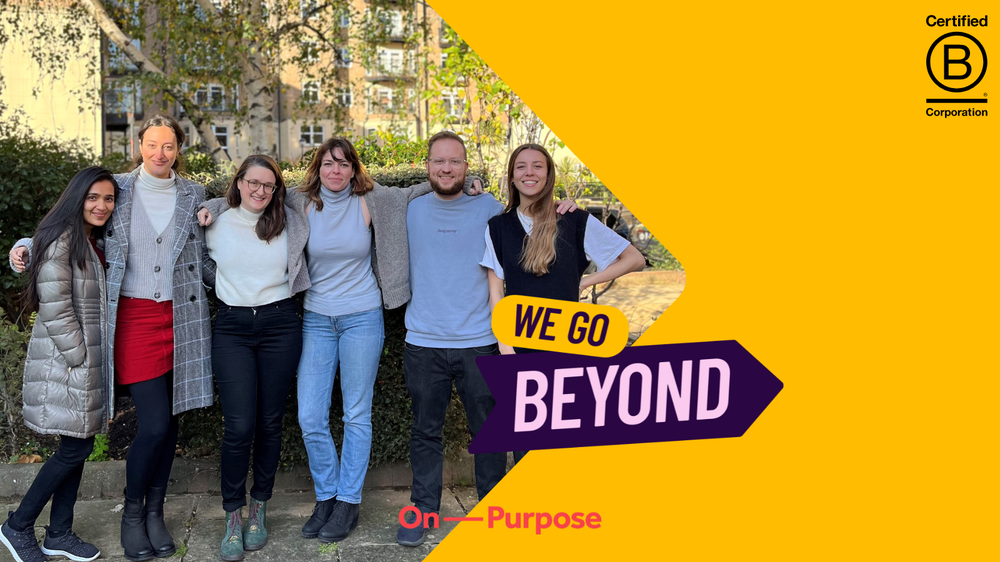 B Corp Month is now in full swing, celebrating businesses that are using their power to drive positive social and environmental change. At On Purpose, we're proud to be part of this movement of more than 6,000 inspiring B Corp businesses worldwide. We go beyond business as usual to make a meaningful impact, and this B Corp Month, we want to share our experience of trying to go beyond and contributing to bringing about the economic change we need. We understand that driving impactful change requires us to prioritise the wellbeing of each individual part of the system, including ourselves. 
Over the past year, we have implemented several initiatives to improve our internal practices and operations, from reducing our carbon footprint to promoting staff wellbeing and investing in social protections. For B Corp Month, we want to highlight some of these achievements. At On Purpose, we:
Opted to travel by train to Amsterdam for our annual international team gathering to minimise our carbon footprint as part of our wider policy of not flying for work.
Help colleagues travel by train in their personal lives too by offering staff up to two additional days holiday per year for low-carbon travel (i.e. taking the train) where they would have otherwise flown, to help with our commitment to our Climate Emergency declaration and Net Zero pledge.
Ensured that every staff member received a wage increase in line with the high inflation this year.
Initiated a trail of a 4-day working week in our Paris office for team wellbeing.
Reviewed our team benefits and ensured our social protections in all cities met a minimum threshold - this meant we increased our enhanced maternity and shared parental leave pay in London to match the statutory level in Berlin. We furthermore maintained our enhanced sick pay, and introduced income protection insurance for our London team.
Introduced access to an employee assistance programme for the London team to extend wellbeing support beyond the workplace, again matching what is already in place statutorily in Paris and Berlin, and ensured all team members have the option of using work mobile phones to help people switch off from work in evenings and weekends.
Continued calculating our yearly carbon emissions to identify areas for reducing carbon footprint and improving sustainability practices.
As we celebrate B Corp Month, we are reminded of the importance of embodying and role-modelling the values and changes we hope to see in the world. In doing so, we can continuously improve and contribute towards creating the transformational change we need. As we move forward, we remain committed to transforming ourselves and our practices in pursuit of a more sustainable, equitable, and just future, and we are proud to be part of a community of businesses that share this same vision.