Fellows from the On Purpose London October 2019 cohort are excited to share their new podcast, A Moment of Change. Over five episodes they will be digging deeper into the impact of 2020 and the fundamental shifts this year has triggered in our world going forward.
In the first series of A Moment of Change we're speaking with leaders within the social and environmental impact sectors to find out how 2020 has impacted them both professionally and personally. From individuals who took up the challenge of the pandemic in their local communities through mutual aid groups, to those working on changing the way we think about food in our society.
In Episode One we heard from mutual aid organisers about helping each other through COVID-19. Check out Episode Two below.
Do you want to learn about trends emerging within different industries in 2020? Hear about the biggest catalysts for positive change? Be inspired by changemakers in the impact sector? Then please join us!
Listen and subscribe to the podcast on Spotify, iTunes, Acast, Google Play or wherever you listen to podcasts.

---
Episode 2 - Settle our Status: Our neighbours without documents

In this episode, we speak to Bilqis and Elsie, leaders working with Citizens UK on the Settle our Status campaign to settle the immigration status of our neighbours without documents in the UK, giving them access to full participation in public life, in the economy and in their communities.
Find out more about the campaign and sign the open letter here.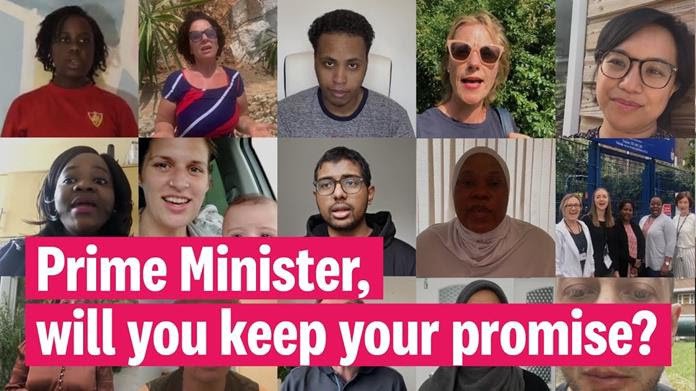 Bilqis found her voice through community organising with Citizens UK through St. Mary's primary school in Lewisham and Lewisham Islamic Centre, one of the member institutions of South London Citizens. She is a passionate leader for justice and equality in her community.
Elsie has always had a strong interest in politics from an early age. She got involved in Citizens UK through PACT (Parent and Communities Together) where she discovered community organising and has been campaigning for migrant rights among other issues since.
"Everybody at some point in life needs help…it could be financially, it could be emotionally but you definitely need help at some point. So for us undocumented people, at this point in our life, we are pleading with you the government and with everyone that is documented to please be sensitive to our struggles, our cries, our tears, our anger, our fears, our sleepless nights and join us and join the campaign."

---
Join our October 2019 cohort and awesome speakers to learn about emerging trends within different industries and hear about the biggest catalysts for positive change.
Subscribe to the podcast on Spotify, iTunes, Acast, Google Play or wherever you listen to podcasts.